Carbon negative (and that's positive)
We see climate change as the greatest challenge of our time. That is why we are taking action and making all the ice from De Jong's IJs climate neutral. Or actually climate negative (but that is positive). Our Ice Factory is the first Dutch ice cream factory to be climate negative (Carbon Negative). This is just part of our journey to be Europe's most sustainable ice cream factory. (Read here what we all did and do for it).
Unique program Peat Meadows
We work together with Fossyl-free Fryslan, Circular Friesland and Dzyzzion on our comprehensive fossil-free mission. We are continuously working to reduce CO2 emissions from both our operations and our supply chains, in line with limiting global warming to 1.5 degrees. In addition, we remove more CO2 from the atmosphere than our remaining CO2 footprint through carefully screened, nature-promoting and community-enriching carbon removal programs, such as raising the water level in the "Veenweide" area (Peat Meadows). A unique program that ensures that farmers can drastically raise the water level and more Co2 can be retained in the soil. Currency for Peat Meadows, watch the video below!
Peat meadows cause no less than 4 percent of Carbon emissions in the Netherlands every year! Reduction is possible by raising the groundwater level. The 'Valuta voor Veen' (Value for Peat meadows) method has been developed for this; farmers and landowners raise the water level on their land and receive financial compensation for this through the sale of Carbon certificates. In addition to income for the land owner and a contribution to the climate goals, there are social benefits such as:
-counteracting land subsidence
-contribute to the restoration of biodiversity and
-preservation of cultural-historical peat meadow area.
The validation by the National Carbon Market Foundation guarantees buyers that the CO2 savings will actually be realized.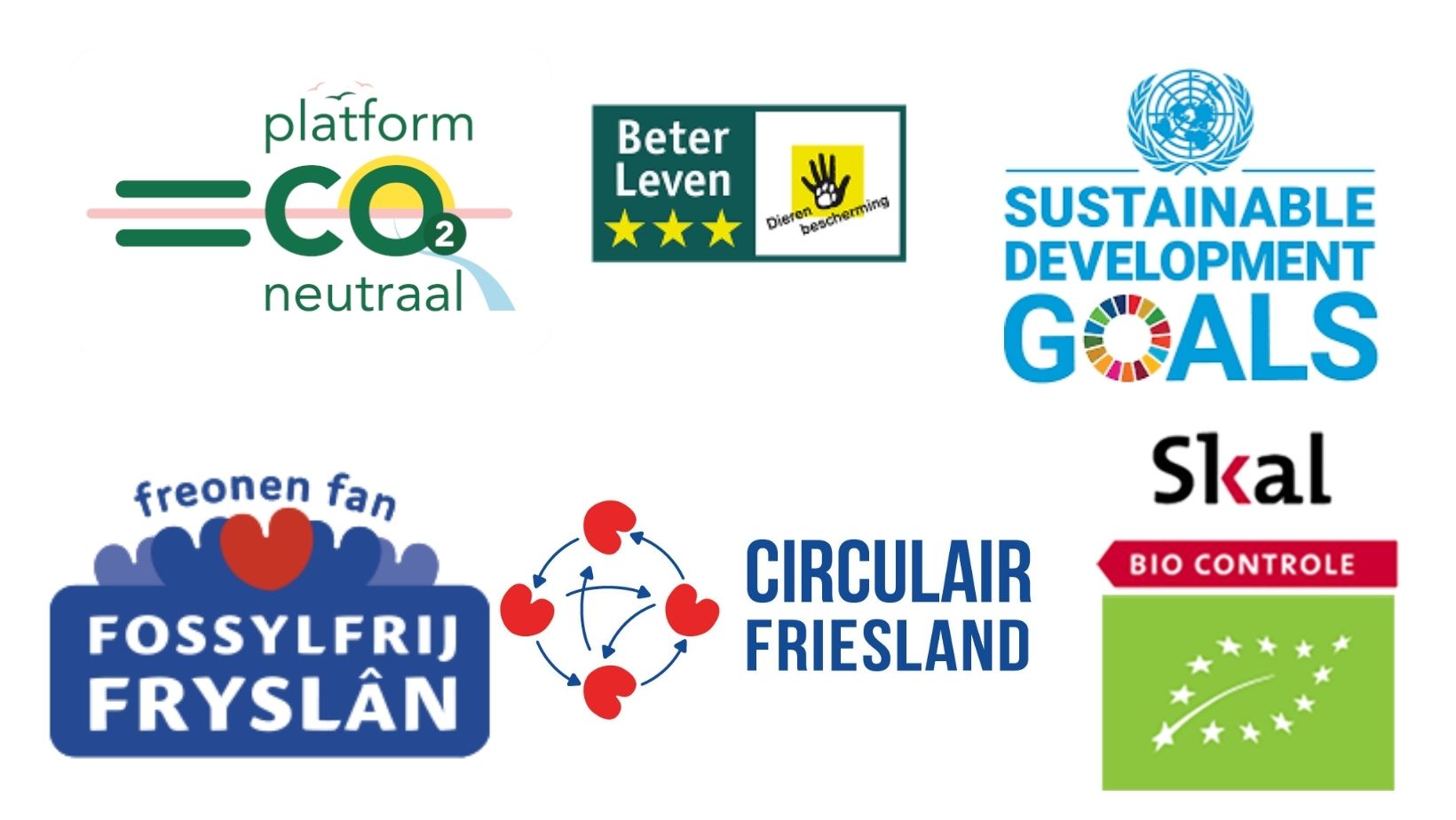 Jaap de Vries, climate expert and owner of Sustainable consultancy Dzyzzion: "The climate and the ecological emergency have consequences for every aspect of an Ice Cream Factory. For an ice cream producer, the questions start with which ingredients can best be used and how they are made. How we can remove as much CO2 from the production chain as possible and what we can do to take care of our world. It is great to be able to work with a climate ambitious company like De Jong's IJs on their sustainable mission to become Europe's most sustainable ice cream factory" .
Dzyzzion has been guiding companies in their mission to become more sustainable with the front-runner project for many years, and already in 2011 helped De Jong's on the way to this sustainable future and a roadmap to get there.
Our sustainable mission
De Jong's IJs develops sustainable ice cream concepts in niche markets with an eye for people, the environment and the planet. Every day we try to get better at this step by step. That is why we are making innovative and radical changes so that we can make ice cream for many generations to come on this beautiful and liveable planet as Europe's most sustainable ice cream makers.
Friesland
De Jong's IJs is located in the beautiful province of Friesland. In the so-called 'Fryske Wâlden', where we can enjoy what our planet offers every day. We understand that we are part of a global ecosystem and we want our impact on the environment to be positive.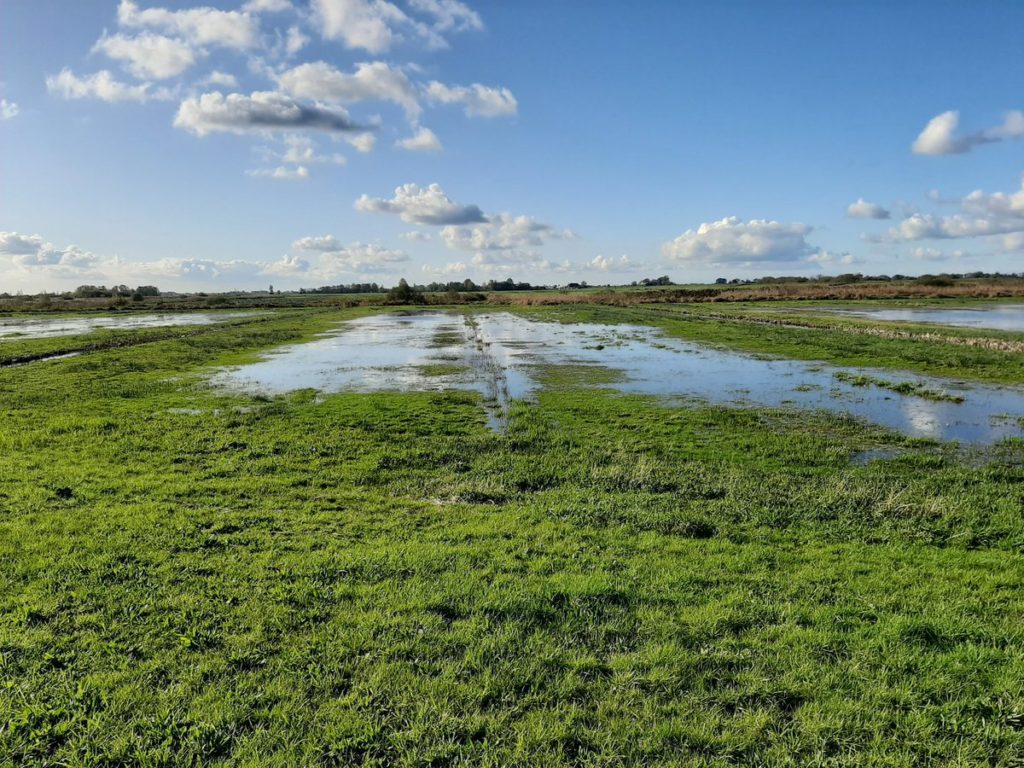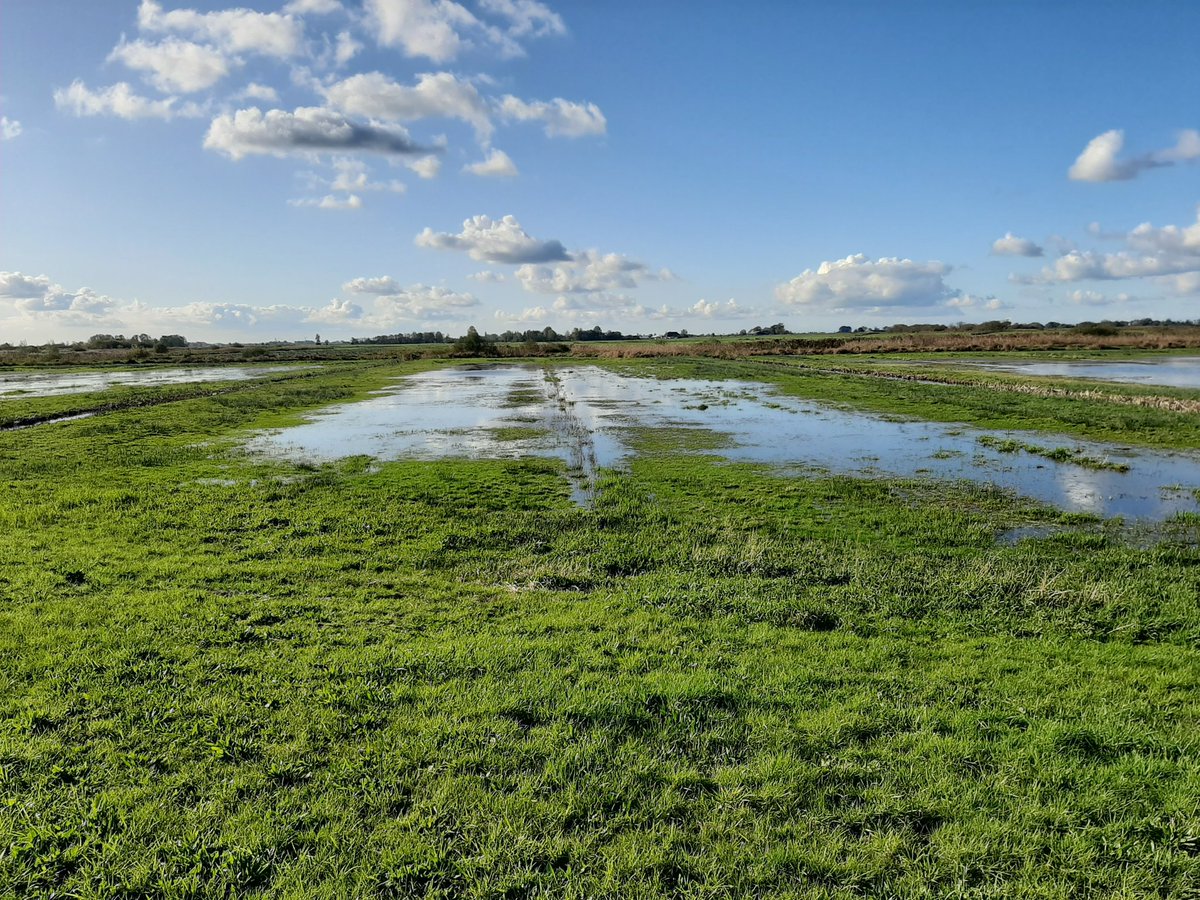 The Carbon problem
We believe at De Jong's IJs that climate and environmental crises are some of the greatest challenges facing our generation. The report of the Intergovernmental Panel on Climate Change (IPCC) warns that global warming must be limited to 1.5 ° C above pre-industrial levels to prevent a substantial degradation of climate and ecosystems. To meet this target, global Carbon emissions must be reduced by 45% by 2030 (compared to 2010 levels) and reach net zero by 2050, with developed countries making larger and faster changes. It is imperative that governments, organizations and individuals take swift action.
How's the Jong's IJs doing so far?
A thorough analysis and continuous monitoring of all our emissions have shown that despite all the reductions made in recent years, De Jong's IJs still emits 36.5 tons of greenhouse gases annually. This includes:
Scope 1: Direct emissions from our activities
Scope 2: Indirect emissions from the production of the energy we use
Scope 3 upstream emissions: Indirect emissions from our supply chain related to the production and distribution of our products. This includes emissions from the farms that produce our ingredients, from transportation, packaging, refrigeration and from running every aspect of De Jong's Ice Factory.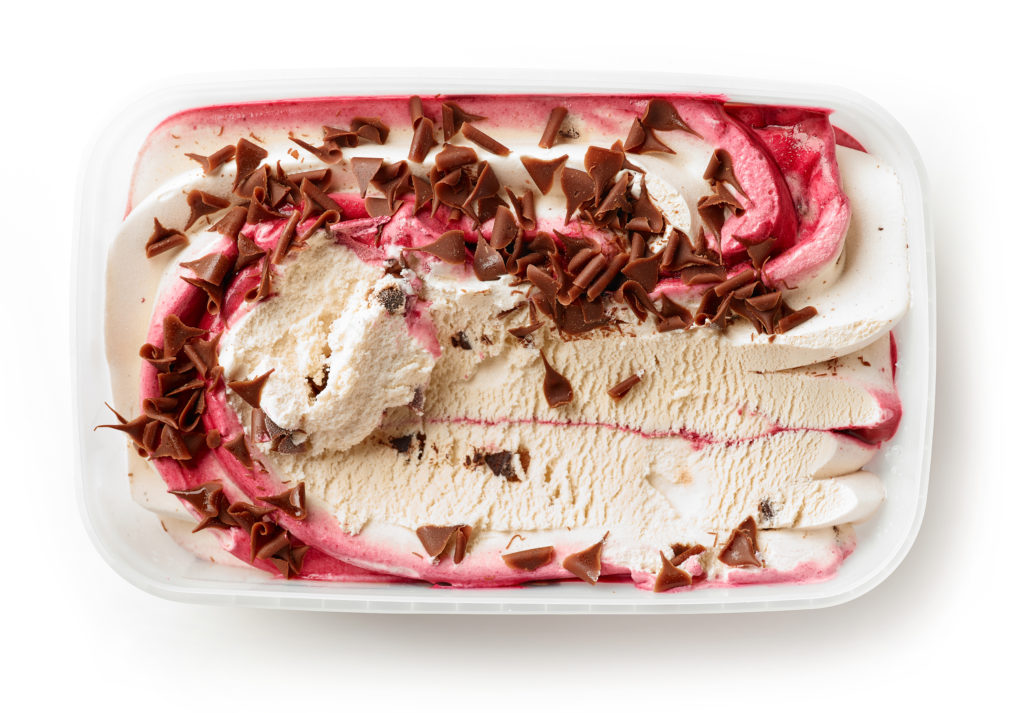 What's our next plan?
Our CO2 reduction plan is to emit 31% less carbon emissions by 2030 than in 2020.
To be able to do this we will continue to grow in vegan ice creams. As already a large range of vegan ice cream. In addition to our nearly 600 solar panels, we want to make even more space for new solar panels. Look below at the installation of our first 200 panels already in 2016. We will develop even more environmentally friendly packaging. Together with Dzyzzion, we developed a roadmap to further CO2 reduction.
We engage with farmers in our supply chain to see how we can better care for the land to everyone's benefit, recognizing that improving the environmental impact of agriculture is very complex. At the moment, our farmers are already investing in the welfare of both land and animals along with our additional price for raw materials. Read more about the partners in our chain.
How did we get climate negative?
And then there is the CO2 emissions that we cannot reduce, however much we want to. Here we remove ten percent more CO2 from the atmosphere than we emit. We do this by investing locally in nature-based solutions, through projects that support the environment for future generations and by storing carbon. Such as the Valuta voor Veenweide project. They have a high quality, independently accredited Co2 project to offer. We will be transparent about the amount of CO2 certificates we buy to more than neutralize our emissions, while supporting Friesland's journey to become a circular leader.

We also invest in Co2 compensation with TreesforAll.
With the project in Uganda we contribute to reforestation and we offer the possibility to offset CO2. Kibale National Park in Uganda is one of the most beautiful rainforests in East Africa with an enormous rich flora and fauna. With the forest that TreesforAll plant, we increase the habitat of the animals, we protect the primeval forest and we make a positive contribution to the climate.
Our renewal plan
In addition to our plan to conserve Co2 stored in the peat meadow, we are also proud donors of Just Diggit.
Landscape restoration with rain.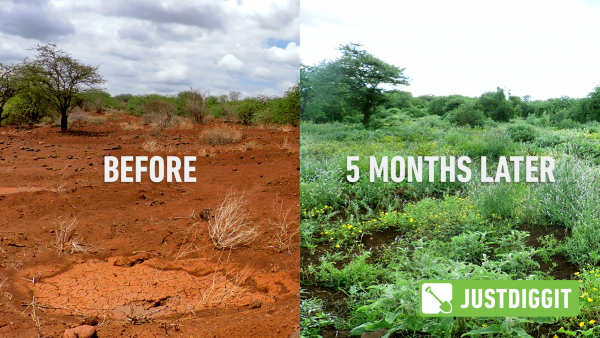 Justdiggit kickstarts large-scale landscape restoration projects by retaining rainwater and making it available for vegetation again. This prevents erosion, flooding and further land degradation. Vegetation can therefore recover. This offers many benefits to the ecosystem and local communities. In arid regions where the soil has degraded, rainwater can no longer infiltrate the soil. When it rains, the rainwater flows away unused. This causes erosion and the remaining fertile soil and seeds are washed away. This causes further land degradation and the loss of vegetation. This negative vicious circle must be broken with interventions so that the country can recover and become green again.
Because rainwater can infiltrate the soil again, the seeds still present here can germinate again. And the remaining vegetation can also recover because moisture is available again. The soil techniques are combined with the introduction of improved agricultural and ecosystem management techniques. This increases biodiversity and allows local communities to earn a living again.
Trees and plants are the air conditioner of our planet!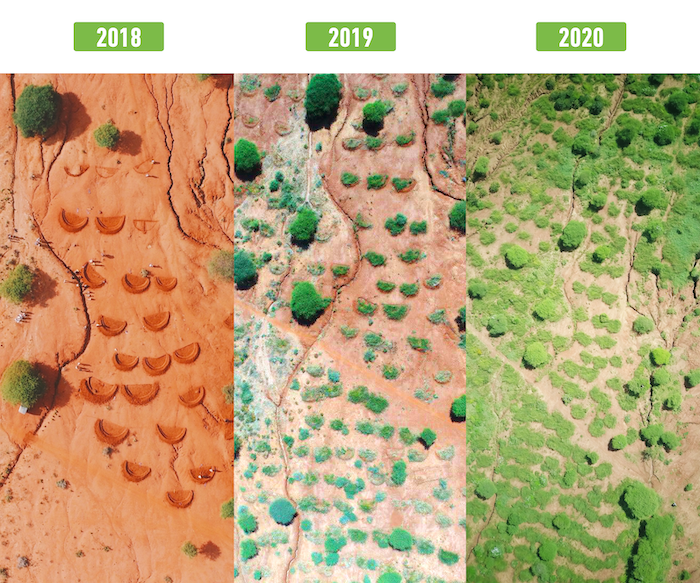 And last but definatly not least
Over the past 5 years, De Jong's IJs has done everything it can to become the most sustainable ice cream factory in the Netherlands.
-Hundreds of solar panels to become energy neutral.
-No more tap water to cool the machines, but spring water. (A reduction of hundreds of thousands of liters of clean tap water per year)
-We heat the building with residual heat from our machines.
-People with a distance to the labor market support us in various activities.
-The whole factory only has LED lamps.
-We buy ingredients locally, sustainably and often organically.
-We have been able to minimize gas consumption by combining heat and heat flows through heat exchange.
-We have started with electric transport and are using blue diesel more often for our company cars.
And yet …. We're not there yet. We want to be the pioneer in our industry, the frontrunner. Really make a difference. Sustainable ice cream without hollow phrases. We want to challenge ourselves, our company, our supply chain, our customers and our entire industry to leave our beautiful planet in the best possible shape for future generations. We continue in our mission to be Europe's most sustainable ice cream factory. We have set the bar higher and higher and are now committed to a fully circular chain. This more sustainable ice cream is not only better for the environment, planet and people, but we also believe that it tastes just that little bit good.
Romke de Jong
3rd generation ice cream maker